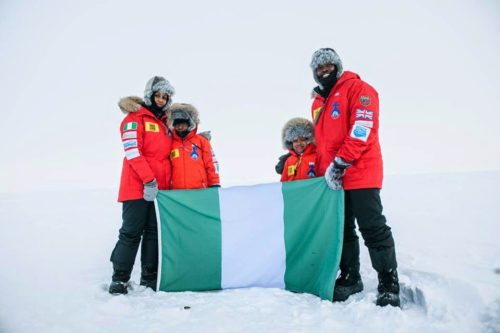 Founded by Og and Joy Amazu, Challenge 100 is a foundation set up by the family, based on the three p
"We have spent the last few years doing our due diligence on Challenge 100 and laying the foundations. The Trip to the Artic is really our official launch of Challenge 100"
It was previously thought that Tee Morgan was the first Nigerian to reach the North Pole. However she had only visited the North Pole Ice Camp, a distance of 25 miles from the actual North Pole, electing not to travel with the rest of the marathon runners to complete the journey to the Geographic North Pole. The Amazu family however travelled the extra 25 miles and are delighted to be the first Nigerians to achieve the accolade of reaching the North Pole.
ALSO READ
GUYS ONLY!! 7 Sure Fire Ways To Get Your Ex-girlfriend Back!!!
Og Amazu said
" Why am I humbled and thanking God? Well this list below is what just happened and can anyone tell me why I shouldn't boast in God and of God's favour? I ain't that smart to have planned this all out and in such a manner and time!!! GLORY BE TO GOD! If anyone is in london from this weekend do come help me thank God and drink some wine!!!!:
Here are their records:
1) The first black family at the North Pole
2) First Nigerians at the exact geographic North Pole
3) First nigerian family at the geographic North Pole
4) Youngest black girls at the geographic North Pole
5) First black girls at the geographic North Pole
6)Joy is the first black woman to sky dive on to the geographic North Pole
7) I am the first PERSON ever I'm told to sky dive and then scuba dive at the North Pole on same event/day ever!!!!
8) I am the first black man to ever to scuba dive at the North Pole ( got to 13 meters below… BREATH TAKING)
Equally amazing was the fact that we were also blessed to be able to have met an amazing nigerian lady called Tee Morgan. Tee Morgan became the first Nigerian ever to run "The North Pole Marathon "at the North Pole ice camp which was 25 miles away from the geographic North Pole at the time the marathon runners were there. We assumed she did also fly to the geographic North Pole itself after the incredible run at -42 degrees Celsius (yikes!!!! Hard core!!!!!) but we were told she elected not to go along with the other runners.